[ Home ] [ Accessory Drive ] [ Bonnet Hinges ] [ Cooling ] [ Calculators ] [ Conversion Parts ] [ Drivetrain ] [ Engine ] [ Engine Install ] [ Engine Mounts ] [ Fuel Tank ] [ Interior ] [ Movies ] [ Oil Pans ] [ Power Steering ] [ Seat Rails ] [ Specifications and NCOP ] [ Starter Motors ] [ Suspension ] [ Wipers ] [ Links ]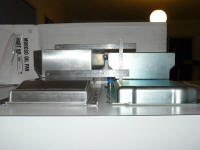 Canton 13-274A left. Moroso 20140 right
Canton 13-274A left. Moroso 20140 right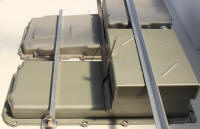 Mast Motorsports left. Moroso 20140 right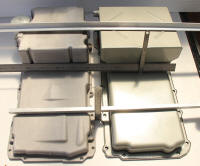 Mast Motorsports left. Moroso 20140 right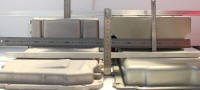 Mast Motorsports left. Moroso 20140 right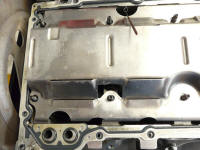 Moroso do not supply a crank scraper. The Camaro windage tray/crank scraper # 1258253 can be modified to suit.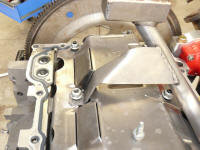 Camaro windage tray/crank scraper modified to suit Moroso Pickup.
Camaro Windage Tray Top.
Commodore/GTO windage tray bottom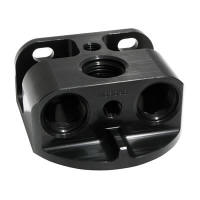 Moroso 23764 Remote Oil Filter Mount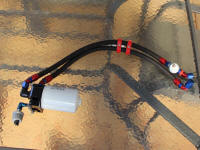 Remote Oil Filter Setup
This picture shows the Torana oil pressure sender in two possible locations.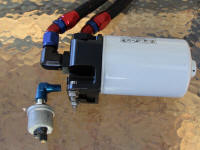 Torana Oil Pressure Sender Option 1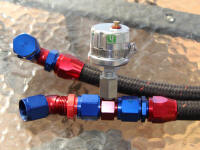 Torana Sender Option 2
Torana Sender mounted in return line near left hand side knock sensor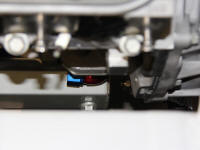 Speedflow 143-10-10 90° Female to Male Swivel Union
Fitted to rear inlet on oil pan.
Parts Option 1 and 2
Brand
Part
Details
Moroso
23764

Remote Oil Filter Mount.

-12 o-ring boss inlet (2)

-12 o-ring boss outlet (Top)

1/4 NPT outlets (2)

K&N
HP-3003
K&N Oil Filter with Bypass
Russell Performance
662043
1/4 NPT Plugs
Plug spare ports in filter mount
Earls Performance
AT981412ERL
-12 o-ring plug
Plug spare port in filter mount
Speedflow
920-10-12
-10 Male Flare to -12 O-ring Boss Adapters - Straight
Filter inlet
Speedflow
102-10
45° Hose End (-10)
Filer inlet
XRP
984511
-10 Male AN flare to -12 male o-ring boss
Filter outlet
Speedflow
102-10
45° Hose End (-10)
Filter outlet
Aeroquip
FCU1006
Aeroquip Startlite Racing Hose (-10) (2 x 700 mm)
Parts Option 1
| | | | | |
| --- | --- | --- | --- | --- |
| Speedflow | 143-10 | -10 90° Female to Male Swivel Union | Oil pan inlet | |
| Speedflow | 102-10 | 45° Hose End (-10) | Oil pan inlet | |
| Speedflow | 103-10 | 90° Hose End (-10) | Oil pan outlet | |
| Earls | 991402ERL | 90 Degree, Female 1/4" NPT to Male 1/4" NPT | Torana sender adaptor | |
Parts Option 2
| | | | | |
| --- | --- | --- | --- | --- |
| Speedflow | 143-10 | -10 90° Female to Male Swivel Union | Oil pan inlet | |
| Speedflow | 142-10 | 45° Female to Male Swivel Union (-10) | Oil pan inlet | |
| Speedflow | 140-10 | Male to Female Swivel with 1/8" NPT Port (-10) | Oil pan inlet | |
| Nitrous Oxide Systems (NOS) | 17030NOS | 1/8" NPT to 1/4" NPT adaptor | Torana sender adaptor | |
| Speedflow | 101-10 | 100 Series Straight Hose End (-10) | Oil pan inlet | |
| Speedflow | 103-10 | 90° Hose End (-10) | Oil pan outlet | |
[ Home ] [ Accessory Drive ] [ Bonnet Hinges ] [ Cooling ] [ Calculators ] [ Conversion Parts ] [ Drivetrain ] [ Engine ] [ Engine Install ] [ Engine Mounts ] [ Fuel Tank ] [ Interior ] [ Movies ] [ Oil Pans ] [ Power Steering ] [ Seat Rails ] [ Specifications and NCOP ] [ Starter Motors ] [ Suspension ] [ Wipers ] [ Links ]