[ Home ] [ Accessory Drive ] [ Bonnet Hinges ] [ Cooling ] [ Calculators ] [ Conversion Parts ] [ Drivetrain ] [ Electric Windows ] [ Engine ] [ Engine Install ] [ Engine Mounts ] [ Fuel Tank ] [ Interior ] [ Movies ] [ Oil Pans ] [ Power Steering ] [ Seat Rails ] [ Specifications and NCOP ] [ Starter Motors ] [ Suspension ] [ Wipers ] [ Links ]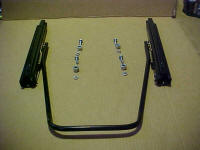 Autotechnica 639F
Height: 24 mm
Width: 40 mm
Length: 340 mm
Travel: 170 mm
Slider: Steel Roller
Autotechnica around $69 from REPCO. SAAS, OMP, Sparco and Cobra are all similar to the Autotechnica and cost between $90 and $200 each.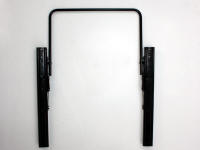 Recaro 0.70.9NT
Height: 24 mm
Width: 39 mm
Length: 396 mm
Travel: 220 mm
Slider: Ball bearings.
Recaro 0.70.9NT (Inside bar no tabs) are not available in Australia. The 0.70.9NT cost around USD $300 landed from the USA.
The version with seat tabs is available in Australia for around $400.
The Recaro rails are a similar design to the series II JAG and Rover rails.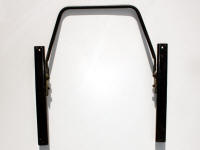 Series II JAG and Rover
Height: 23 mm
Width: 38 mm
Length: 357 mm
Travel: 357 mm
Slider: Ball bearings
Similar to the Recaro rails. The rails are riveted to the seats. I bought a set from a wrecker for around $100 and told them to keep the seats.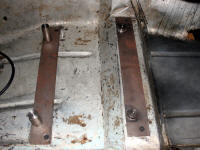 Mounting plates
The plates were designed so holes can be cut in the carpet and the carpet fitted over the pillars. The rear pillars are bolted to the plate using coutersunk high tensile bolts. The front pillars are welded to the plate and then tapped.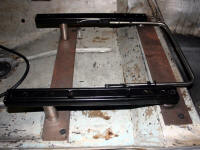 Recaro 0.70.9NT rails mounted
Recaro rails mounted on adaptor plates with new seat adjuster hoop.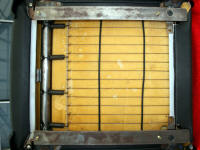 Adaptor plates on the Monaro seats.
The factory mount bolts at the rear are further apart than the front bolts.
I have removed the factory mount bolts. The rear bolts have been replaced with countersunk bolts. The front bolt screws into the adpator plate and will attach to the Recaro rails. The rear bolt for the Recaro rails is tapped into the adaptor plate.
Nylock nuts are used to attach the seat to the Recaro rails.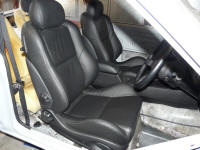 Monaro Seats
When the seats are in my driving postion the rails and adjuster hoop are hidden by the seat.
[ Home ] [ Accessory Drive ] [ Bonnet Hinges ] [ Cooling ] [ Calculators ] [ Conversion Parts ] [ Drivetrain ] [ Electric Windows ] [ Engine ] [ Engine Install ] [ Engine Mounts ] [ Fuel Tank ] [ Interior ] [ Movies ] [ Oil Pans ] [ Power Steering ] [ Seat Rails ] [ Specifications and NCOP ] [ Starter Motors ] [ Suspension ] [ Wipers ] [ Links ]